Version 2.9cc Updated: May 30, 2003

To download this Program, simply press the download button below.
I hope you'll enjoy this FREE Program to make Icons for your own use.
Sam J. Kopetzky II, Author

(If for some reason THIS page DOESN'T display. EMail us: samplecorp@yahoo.comcom )
See down below for more Programs written by this Author
Select this button

<to download>

"ICONMAKE with JUMBO-CON
Main EMail:programs@sampleco.4mg.com
Alternate E-Mail address: samplecorp@yahoo.com

---
Program Description(s)
---
ICONMAKE: (see below for JUMBO-CON)
New in this Version:

Fixed Problem with the CHOP section and others?
New look and placement of controls
Updated save feature allowing you to 'bookmark" where you were so that you may return at a later time.
Converts Icons/Cursors to BMP Format for easy editing

History:
Program converts BMP,WMF,OS/2,JPEG,DIB,RLE,JIF and will import any other Graphic through the System Clipboard.(This process may convert the graphic to a BMP in the process)
Being able to make Icons with Invisible(masked) color
Ability to make Icons for use in Programs as well as for Folders,etc.
A new Cropping Program attached to the main program.
Makes 24 or 8 bit Bit Color Icons or 256 Grayscale, which can be photographs scanned or otherwise.
The ability to resize the picture to correctly show the icon.
---
JUMBO-CON:

Changes:
Changed File requester to ask for "double-click" to make sure file or folder or Program was selected.
JUMBO-CONwill make ICONS for your Desktop which can be any size you wish and are fully functional. You assign what folder/Program or text file or even Drive you want to open when its face is clicked.
Every time you BOOT your computer, JUMBO-CON's will also show up on your desktop, just where YOU placed them and you can delete them anytime from either the Desktop or your Computer, with just your RIGHT mouse button.
You can change the image used in any installed JUMBO-CON anytime you wish as well as what it will open. All controls are AT the JUMBO-CON on your Desktop.
Please try the "DEMO" JUMBO-CON and see how easy the whole process really is?
This is an actual size of a JUMBO-CON: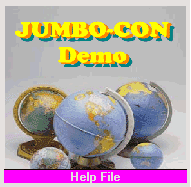 You can make your JUMBO-CON any size you wish!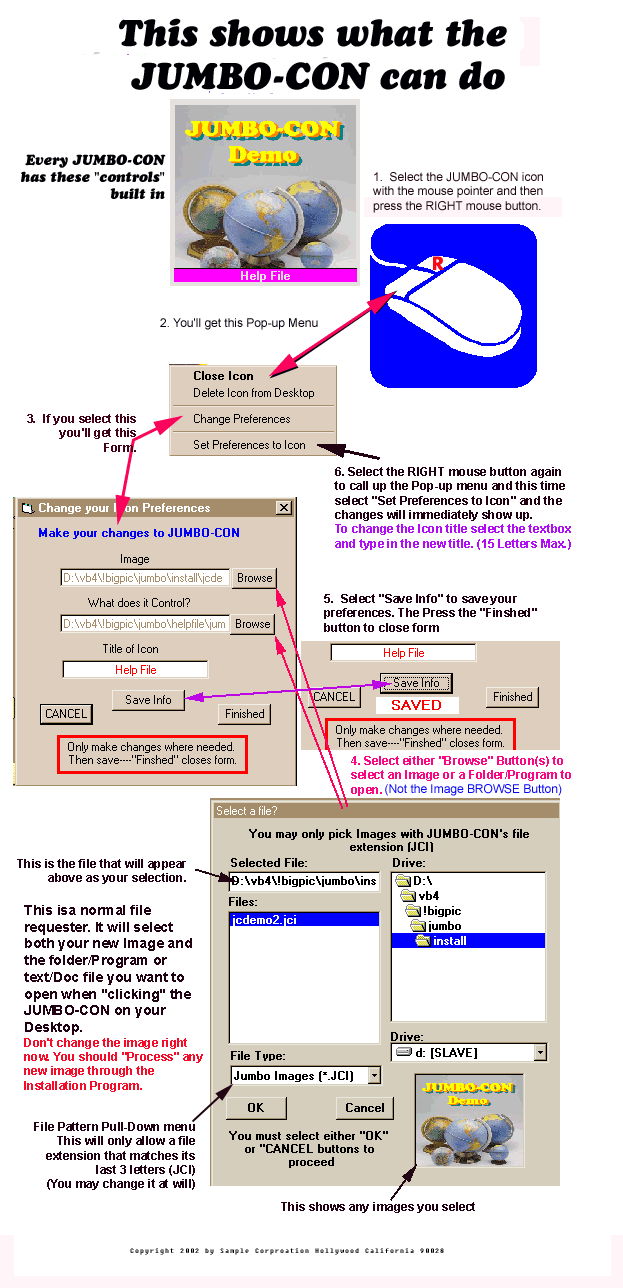 Updated: December 9, 2002
THE AUTHOR/SAMPLE CORPORATION CLAIMS AND GUARANTEES TO HAVE FULL AND CLEAR COPYRIGHT TO THIS WORK. THIS WORK IS FOR THE PERSONAL VIEWING OF THE DOWNLOADING PERSON AND MAY NOT BE USED, REPRODUCED, MODIFIED, DISTRIBUTED, ETC. IN WHOLE OR IN PART ANYWHERE INCLUDING USE ON A WEB PAGE, CONVERTED, UPLOADED TO ANY ELECTRONIC SYSTEM OR BBS OR INCLUDED IN ANY COMPACT DISK (CD-ROM) OR COLLECTION OF ANY TYPE WITHOUT THE WRITTEN PERMISSION OF THE UPLOADER. TO DO SO PLACES THE USER AT LEGAL RISK OF SEVERE FINES AND PENALTIES FOR COPYRIGHT INFRINGEMENT.
THIS PROGRAM IS AVAILABLE "AS-IS" AND THE AUTHOR ASSUMES NO RESPONSIBILITY FOR ANY LOSS OR DAMAGE OF ANY KIND FROM THE USE OF THIS PROGRAM WHATSOEVER.
DOWNLOADING THIS PROGRAM THE USER AGREES TO THE ABOVE CONDITIONS. BECAUSE THESE PROGRAMS ARE FREE THEY ARE NOT PUBLIC DOMAIN.